WHO DO YOU THINK YOU ARE??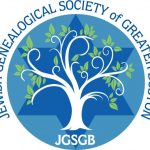 You don't have to be a celebrity to have an interesting family! 
Learn how to find your ancestors and tell their stories in a three-part workshop presented by Temple Beth Sholom Adult Education and the Jewish Genealogical Society of Greater Boston (JGSGB).
Learn to use JewishGen.org, the largest resource for Jewish genealogy, other online sources, local repositories, and through a case study to combine and use resources to find your ancestors. Instructors are experienced JGSGB genealogists, Carol Clingan, Debra Lerner and Jessie Klein.
Sundays Mornings, 10-12, November 19, December 3 and 17 at Temple Beth Sholom, 50 Pamela Road, Framingham.
Workshop fee: $25/TBS and MWJDS. $35/others.
Register with Fern at templeadmin@beth-sholom.org or call 508 877-2540, x 205
Participants are encouraged to bring laptops. Don't have one? Don't worry.