Holidays at TBS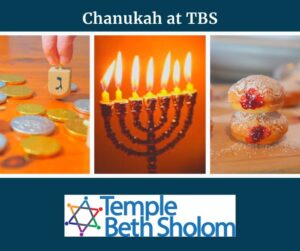 Chanukah at TBS
This year we are celebrating in style. Check out all the awesome Chanukah events, and keep coming back as new events are posted! Unless otherwise noted, events will take place in the regular TBS Zoom Room. Email templeadmin@beth-sholom.org if you do not receive the weekly emails with our zoom credentials. 
Tasting Hope – December 6th, 2:00 PM (zoom info w/registration)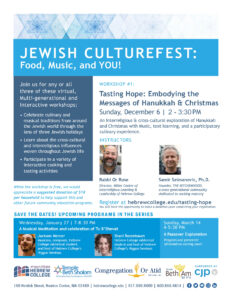 In partnership with Hebrew College and many other MetroWest communities, TBS is proud to introduce "Tasting Hope: Embodying the Messages of Hanukkah & Christmas," the first in our Jewish CultureFest: Food, Music, and YOU! This is the first in a three-part online series.
Register here: https://hebrewcollege.edu/events/tasting-hope/
Chanukah SholomPlex – December 12th, 9:30 AM 
Three amazing guests at our December Chanukah themed SholomPlex:
Rev. Debbie Clark leading Torah Yoga
Rabbi Matt Dreffin teaching about Jewish Glass Art
Cantorial Intern Jessica Woolf Silverberg leading a Chanukah Hallel Sing-Along
Chanukah Candle lighting and the Winter Solstice with FSU Planetarium – December 12th, 5:30 PM  
Join us as we light the Chanukah candles and watch a Winter Solstice program with the Christa McAuliffe Center Planetarium at Framingham State University. Learn more about the excellent starry skies of winter and make connections to the holiday season.  Ideal for children and adults of all ages $10/family
Online registration for this event is now closed. Please contact events@beth-sholom.org to register.
Candle Lighting and Sing Along – December 14th at 5:30 PM 
Join Rabbi Poirier in singing your favorite Chanukah songs and family fun candle lighting. Ideal for kids ~7 and under. RSVP to rabbi-poirier@beth-sholom.org with your name and address to receive a Chanukah care package!
Chanukah Pub Trivia – December 16th, 7:30 PM 
A family fun "pub style" trivia night ideal for pre-teens and older. Winning teams will receive $$ PRIZES $$
MetroWest Chanukah Celebration –  December 17th, Time TBA
More info to come.